Let's just say it, this is a great Transformers movie! What's more, it's a good movie overall! Not to mention, it's got more character, story, emotion and actual humour than the previous 5 movies combined.  
I went to see it on preview at Vue in Newbury on 17th December.
I'm going to avoid major spoilers and talk only about what is seen in the trailer, but a few little ones might drift through if I'm not paying attention…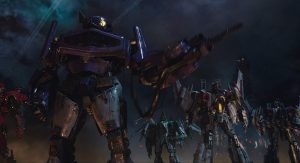 The first 5 or so minutes or so of this movie are a pure G1 fan service, I felt serviced and I liked it! Set on Cybertron it shows the closing battle between the Decepticons and the Autobots and things are looking rough for the good guys. I want to watch this opening again, probably a few times to be honest to pick out all the characters on screen. Rachet, Wheeljack, Brawn, Ironhide on the Autobots all leap to mind when thinking about it. All sporting a solid G1 theme, but, slightly updated and rougher, it just worked for me. The Decepticons, as you saw in the trailer, had Shockwave and some Tetrajets! Thundercracker, Skywarp, Starscream think I saw a little Acid Storm. Soundwave and Ravage also make an appearance as per the trailer a little later in the movie. I loved this 5 minutes more than any action piece from any of the previous movies. I've seen articles of the director saying he wants to do a pure CGI movie like this, I hope he gets what he wants for Christmas! At the end of this set piece, Optimus Prime tells Bee that he needs to get to Earth and establish a base for the remaining Autobots and wait for them to join him and Bumblebee heads off on his mission to Earth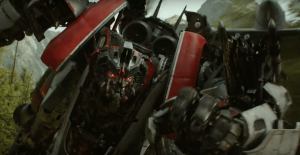 Bumblebee lands on earth and crashes into a training exercise being run by Sector-7, led by John Cena. After an initial landing and chase Bee is cornered and tells them that they are making a mistake and that he is not hostile when Blitzwing arrives. In the ensuing Chaos Sector 7 are left with a lasting impression of hostility. Bumblebee, who is heavily damaged in the attack ends up going into stasis lock.
We are then introduced to Charlie. Played by Hailee Steinfeld. A quick point of note, I didn't really recognise a single human actor in this movie, with the exception of John Cena! Within about 3 / 4 minutes Hailee had achieved something to me no other film in the franchise had, I cared about a human character in a Transformers movie. I wanted things to work out OK for her in the end.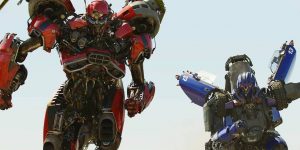 Charlie ends up finding Bumblebee in a junk yard thinking he is just a car, and while messing about with him, trying to get him up and running she accidently triggers a radio signal that draws the attention of our bad guys for the movie. Shatter & Dropkick. Dropkick making a puddle of the hillbilly upon arrival is both funny and gross.
This all sets up the basic premise of the film. One of the things I loved about this movie, there is no "McGuffin". All the other films had something be it a pair of glasses, a key, a pillar, a seed or a medieval talisman that was the search point of those movies, this movie boils it all down to Transformers simplest element, there is a war between the Autobots and Decepticons and it's all the better for it.  I sometimes find watching Revenge of a the fallen a bit of a slog and often skip the middle bit when they are in the desert, there is none of that in this movie and its pace is smooth and steady.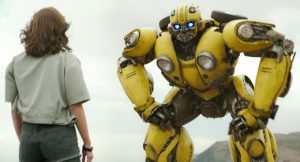 Shatter and Dropkick team up with Sector 7 to try and find Bee and Bee and Charlie just try to stay hidden and learn to communicate with each other while Bee waits for his comrades to join him. There are a few twists and turns but nothing that doesn't work in the confines of the movie.
this movie was announced I had amazingly low expectations, each trailer raised my expectations until I found myself actually quite excited to go see it, now I've seen it the only thing I can say is, go and see it yourself!
The ending of the movie leaves it open to branch off a new story line and this excites me, I hope all all pans out.
Go see and support this film!!